Despite the overwhelming range of apps available today, one software remains indispensable for growing businesses: Enterprise Resource Planning (ERP) systems. But what is ERP and do you really need it?

In this post, we'll answer some of the most common ERP questions, including:


What is an ERP?
Do you need an ERP?
Benefits of an ERP system
How does an ERP system work?
Who can benefit from an ERP system?
What is ERP?
ERP stands for Enterprise Resource Planning.
An ERP platform brings together all of a business' key data – from accounting, operations, inventory, CRM and more – into one system, to streamline its processes and provide a single view of the organisation.

A cloud-based ERP maximises the benefits of an ERP system, providing real-time visibility of your business data in an environment that is secure and available at all times.
Enterprise Resource Planning can refer to both to the process it describes as well as the software used to manage it. A good rule of thumb is that "Enterprise Resource Planning" (spelled out in full) generally refers to the process, whereas "ERP" (the acronym) is almost always refers to the tools that manage and optimise an organisation's enterprise resource planning capabilities.

Do you need an ERP system?
Cashflow is often the biggest concern for start-ups, small and mid-sized businesses. Accounting tools, such as Xero or QuickBooks, are very popular with small businesses because of their low cost, simplicity and strong cashflow management capabilities.

As soon as a business begins to grow, its processes become more complex, such as managing a large workforce, multiple office or warehouse locations and vast numbers of customer orders and inventory items. At this stage, businesses can start to run into problems that could be solved by implementing an ERP system.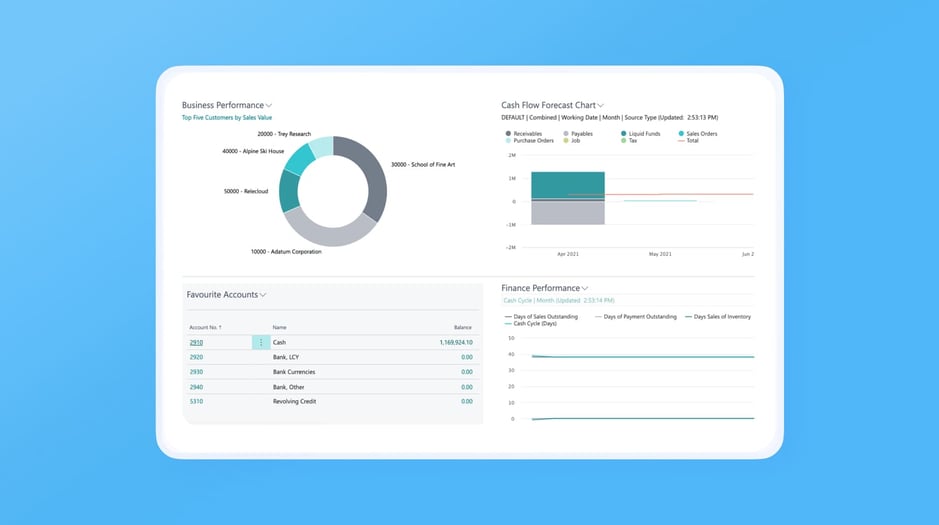 Do you need an ERP? Start by asking these questions:


How much manual effort is required to do basic tasks like month-end reporting across departments or

entities, or calculating COGs?
How cost-efficient is your current setup? Factor in not only licencing costs of accounting software, but also the cost of your team's time in manual effort, hosting and IT costs if you maintain your own system, or outsourcing costs.
Can you easily add on new tools or systems such as eCommerce or a website?
Will it help your system grow? If you have a boom, how will your business handle it?
Recognising where your current system is failing to support your short and long-term business objectives will help you to choose the right cloud ERP for your business.
Benefits of an ERP system
A cloud ERP can completely transform your business operations. From speeding up day-to-day tasks to streamlining the entire quote-to-cash process, to harnessing technologies such as Artificial Intelligence (AI) and Robotic Process Automation to dramatically transform how your business operates.

Just under 75% of businesses that successfully implement ERP software see quantifiable productivity and efficiency gains – these can include savings of more than $460,000 AUD in efficiencies (over 3 years) and up to 5 days a month in reporting.

The outcomes depend on the features and integrations that are built into the ERP system, but at the very minimum, the benefits include:


Business-wide visibility
Informed decision-making
Seamlessly connected functions
Efficiency and

higher productivity

Resilience to risk and disruption
Peace of mind with compliance and security
Agility and greater control over business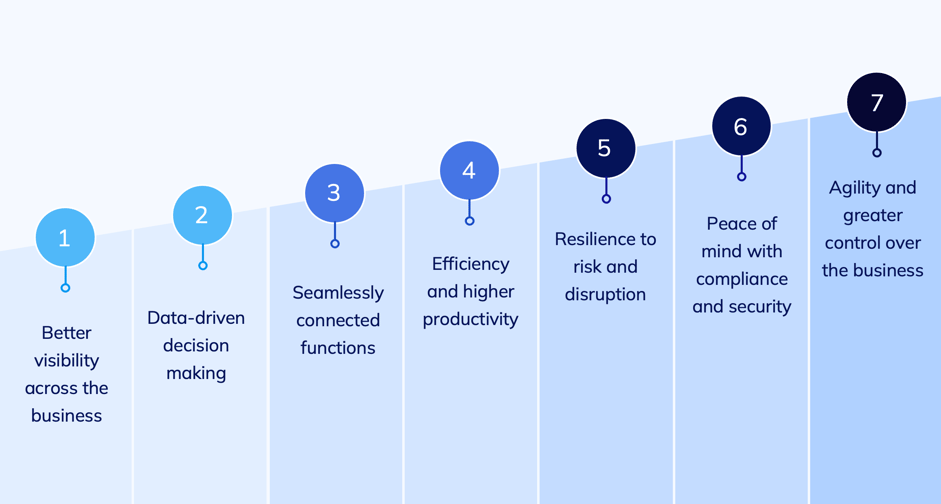 How does an ERP system work?
There are three main differences that make ERP systems significantly more advanced than small business accounting tools:


ERP integration: Integrated systems, connected teams




An ERP system integrates key business functions to allow for information to flow between them — in real-time.

If your business uses different systems such as a CRM or accounting software, your data can end up 'siloed', with different data sets stranded in each system. (Worse still, without these systems it could be in a spreadsheet saved on an employee's desktop). Gauging business performance based on multiple, fragmented sources of information is both frustrating and risky.

A cloud ERP removes the barriers between various departments to give you a clear view of your entire business—at a glance.



ERP automation: automated workflows

An ERP system not only enables real-time information exchange between different areas of your business (known as workflows) – it can also automate them. For instance, with an ERP system, data entered just once at the point of sale can do three things at the same time and automatically:

- generate a shipping label for distribution
- create an invoice for accounting
- update inventory levels

Other scenarios where this comes in handy include purchasing teams getting notified when inventory levels dip below a set point or your customer service team being able to look up stock availability while on the phone to customers without having to contact the warehouse team.

Secondly, ERP solutions use logic to reduce the manual input required in day-to-day tasks. Not only does this speed up critical business processes, it also frees up your team to focus on higher-value tasks.

For instance, your finance team could be taking weeks to prepare reports but an ERP system has the ability to generate up-to-date, consolidated views of financial data from across the business —on demand — allowing the same finance team to spend their time analysing data rather than hunting around for it.



ERP reporting: real-time insights, better business decisions




Cloud ERP systems have technologies such as AI, machine learning and advanced analytics built into them to offer organisations of any size the business intelligence (BI) necessary to gain a competitive edge and thrive in a competitive world.

Cloud ERP systems use AI, machine learning and advanced analytics to analyse and make predictions based on your existing company data. Predictions that alert you to potential future risks, problems and opportunities will enable you put contingency plans in place, increase revenue and run your business better.

Investing in an ERP solution is key to business owners feeling in control at all times and enables them to anticipate change and make well-informed decisions with speed and confidence.


Who can benefit from an ERP solution?
People are the lifeblood of any organisation. At Wiise, we understand the impact that technology solutions have on the people in a business.
By connecting various business functions, an ERP system impacts every team and team member. Here's how:


Finance teams can close the books faster
Sales teams can process orders effortlessly
Operations teams can deliver orders in full and on time
Customer service teams can be more proactive with communication
Accounts payable teams can pay suppliers correctly and on time
Management teams get instant visibility into the health of the business
Department heads can make timely decisions based on reliable data
The business can maintain accurate financial records and audit trails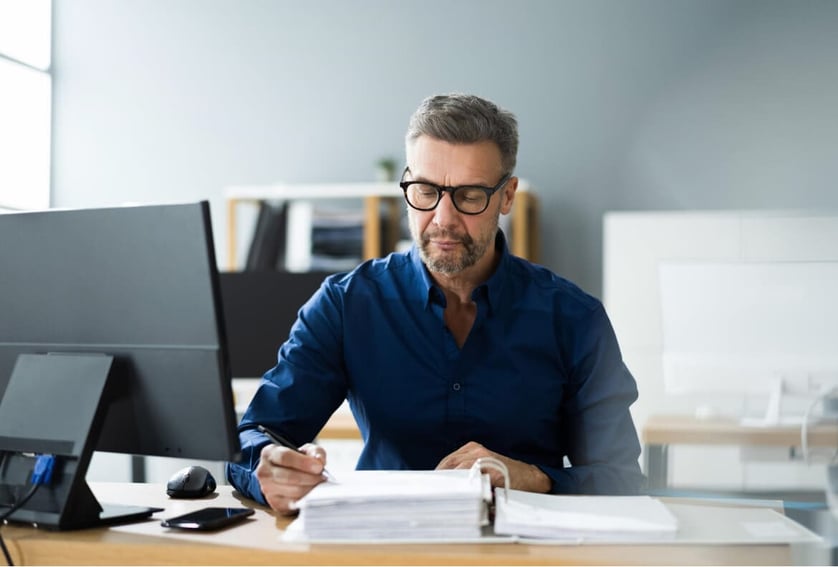 Have a question?
Have a specific question about how your business could benefit from moving to an ERP solution? Ask our friendly team today support@wiise.com or 1300 191 222.
Need more help choosing an ERP?
To find out more about how your business can benefit from an ERP, check out our previous blog posts:


To help kick start your internal discussions around your team's ERP requirements, download our handy ERP requirements checklist.
Alternatively, get in touch with one of our friendly Wiise team members to find out how Wiise ERP can meet and exceed your business needs.
Want to know more about Wiise?
Speak to one of our friendly team members.
Book a demo