What's the biggest success factor an ERP implementation?

While the ERP technology and IT service provider are crucial, the internal project team – the people responsible for ensuring that the implementation actually happens – is often an afterthought. KPMG estimates that up to 70% of IT projects don't realise their full potential because the 'human factor' has been neglected.

Setting up a highly effective project team to manage your ERP implementation will play a significant part in its success. (Read ERP Implementation 101: A practical guide to managing the move for more advice on every stage of a successful ERP implementation).

Here are the key questions to answer before assembling your ERP project team:


1. What is your goal?
One of the project team's most important tasks will be putting together a full list of your organisation's requirements for the project. (For helpful suggestions, check out our ERP System Requirements Briefing Document).

But, even at this early stage, understanding the basic project requirements, such as what you hope to achieve, the project timeline and other important factors, will help you to work out what you need from your project team, who should be involved and how the project should be managed.

For example, an ERP implementation can take anywhere from 3 to 12 months to complete (or longer) – if your organisation has a tight implementation deadline, a small, agile team will be more effective for fast decision-making. Your key requirements or team resources might indicate the most appropriate person to lead the project – for example, if you have an in-house IT team, the CIO might be better placed to manage the implementation, while the project complexity will determine the level of involvement required from team members (potentially eliminating some of your busiest team members).
2. What should your project team look like?
The good news is that this question has a fairly straight-forward answer. Generally, project teams tend to follow a set structure (as shown below):
Core project team – a small group (3-5) senior business leaders to agree on the SoW and sign-off on key decisions throughout different stages of the project.
Project lead – the nominated internal employee tasked with managing the project, maintaining clear and frequent lines of communication and ensuring the project is delivered successfully (on time and within budget).
Business representatives – individuals selected to represent the interests/concerns of each of the major business functions (e.g. marketing, HR, IT, sales, product etc).
Solutions architect – a team or individual with extensive expertise in implementing your chosen ERP technology. While some larger organisations may choose to hire a person with these skills, it's most common for businesses to enlist the help of an ERP services provider, also known as an implementation partner.
End-users – a handful of individuals from each business function who will play an important role in 'user acceptance testing' and ensuring your new ERP aligns with your key business processes.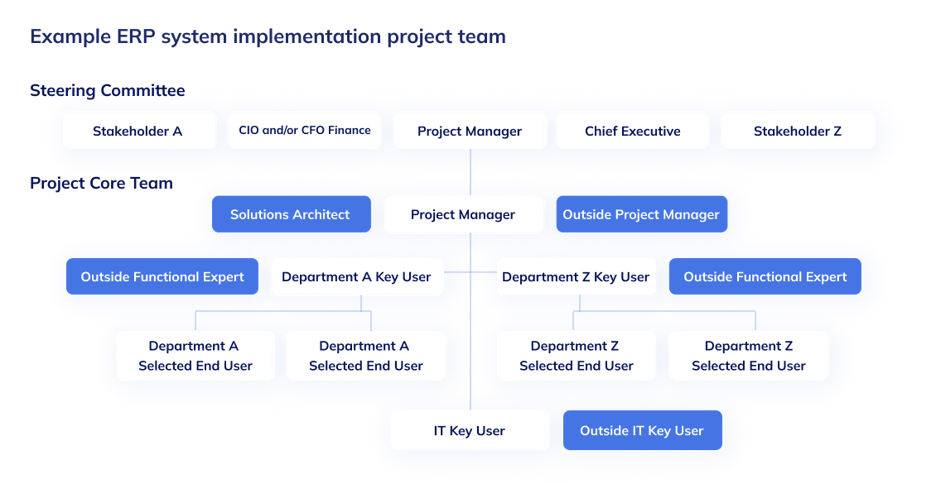 Remember – the size of your team matters:
Too small and decisions will be hampered by a lack of diversity and representation across the business – not to mention an exhausted, over-worked team. (Gartner research suggests project teams that aren't overburdened can deliver business value up to 30% faster).
Too big and it will become difficult to manage and make decisions quickly. (Research shows that a team's effectiveness reduces beyond 10 people).
3. Who should be your project lead?
Who's in charge? Believe it or not, many organisations fail to nominate a single person to oversee the project.

Without a leader, projects are doomed to quickly unravel, with no accountability for missed deadlines, no clear understanding of roles and responsibilities and no clear point of contact for communications.

Your ERP implementation project lead should:


Be an experienced finance or operations manager who has ideally led or been involved in implementing an ERP or as a minimum used an ERP before. (In larger businesses, it might be a member of the IT team or an external consultant). 
Have an interest in leading a project. (Look for someone who can see the benefits of the project and will work to overcome problems, not highlight them.)
Have enough time to devote themselves to the project. (Consider how their business-as-usual work will be delegated so they can focus on the implementation).
Take responsibility for the overall implementation.
Select, onboard and manage all communications with an implementation partner. 
Ensure that the proposed setup and timeline meet the organisation's needs.
Coordinate user acceptance testing to ensure the system is ready before going live.
Lead change management within the business before and after go-live.


4. How to choose your team members
Your ERP implementation will impact (and benefit) the entire organisation – so assembling a team of key representatives from across the business, such as finance managers or accountants, operations managers and accounts payable staff (those with a vested interest in the project's success), is vital.

The project team will:
Play a crucial role in identifying key requirements and process analysis for the project.
Document important insights about how their team processes and departmental needs – to be shared with the implementation partner.
Sign (or review) the Scope of Works (SoW) document.
Help to select data sets to be migrated to the new ERP, at the kick-off stage.
Participate in user acceptance testing (UAT).
Help to roll out system training within their teams.


"Project teams need capacity to plan, reflect and innovate."
Robert Handler, Distinguished VP Analyst, Gartner
As well as considering each individual, it's important to consider the effectiveness of your project team as a whole. For example:


Team dynamics – Personality types are important (which is why 80% of Fortune 500 businesses use personality tests to vet candidates for top positions). Consider how your team will work together and communicate. Will they persevere if things go wrong or be committed if extra hours are required?
Team buy-in – Is your team invested in the project? Not all employees will feel the same way about big organisational changes, like an ERP implementation. Often reactions fall into one of 4 categories: early adopters, opportunists, resistors and detractors. Assembling a team of individuals who are enthusiastic about the benefits of an ERP implementation will help to set a positive tone for the project and encourage others to come on the journey.
Team diversity – diversity can apply to everything from age, gender and ethnicity. But it can also apply to diverse expertise, experience levels and perspectives across your business – for example, your sales rep will have very different requirements and priorities to your warehouse manager. While there are plenty of statistics pointing to the benefits of team diversity (including 35% greater financial returns), the main takeaway is that a diverse team leads to a broader range of views, better outcomes and a more innovative approach. All of which are beneficial in an ERP implementation.


5. How to manage your project effectively
Managing an ERP implementation is a complex topic (which is why we've put together a comprehensive, two-part guide on how to do it). But the earlier you can set expectations around how the project will be managed with your team (and key players in the organisation), the better.


Communication methods – teams need to feel informed, connected and heard to be committed and work effectively (according to Bain & Company). Setting up clear lines for communication from the start of the project (including decision-making processes, escalation procedures and reporting mechanisms) is critical in maintaining buy-in. Remember that too much communication or excessively long meetings can also impact effectiveness (as shown in the

bike shed effect

). Consider a dedicated tool, such as Jira or DevOps, to collaborate and keep the project on track.
Alignment – The SoW isn't just an agreement from your ERP implementation partner on what they've promised to deliver; think of it as your team's mission statement. Regularly referring back to the objectives outlined in your scope document and reminding team members of tasks, timelines, dependencies and milestones will ensure your project stays on track.

Set clear roles and responsibilities for each staff member involved in the project and establish accountability – as well as buy in. (Even if your team members are supportive of the project at the outset, regular reminders of 'why we're doing this' help to maintain positivity). Create a plan of how the project team will balance their time, continuing with day-to-day tasks while simultaneously allocating adequate time to the project.
Your ERP dream team
ERP implementations are complicated and it's likely that, at some point, yours will encounter a challenge or two along the way. When it does, the ERP team you've assembled to navigate these challenges will be the difference between overcoming them quickly or allowing them to jeopardise the project.
Beyond running a project smoothly, the right team can drive change throughout your entire organisation. (According to BCG, '10 digital superstars can drive new ways of working in around 100 others'.) Picking a team with the right expertise, communication skills, focus and – perhaps most importantly – enthusiasm for the project, will maximise the benefits and opportunities a new ERP will bring to your business.
Planning to switch to a new ERP? Check out our other related blog posts, including:
• Moving to ERP? Here's what you need to know
• Setting up for Success: 50 Key Capabilities for your ERP Requirements
• Finding The One: 6 Red Flags & Must-Haves in an ERP Services Provider
Ready to learn more?
Book a demo call with one of our friendly team members.
Book a demo