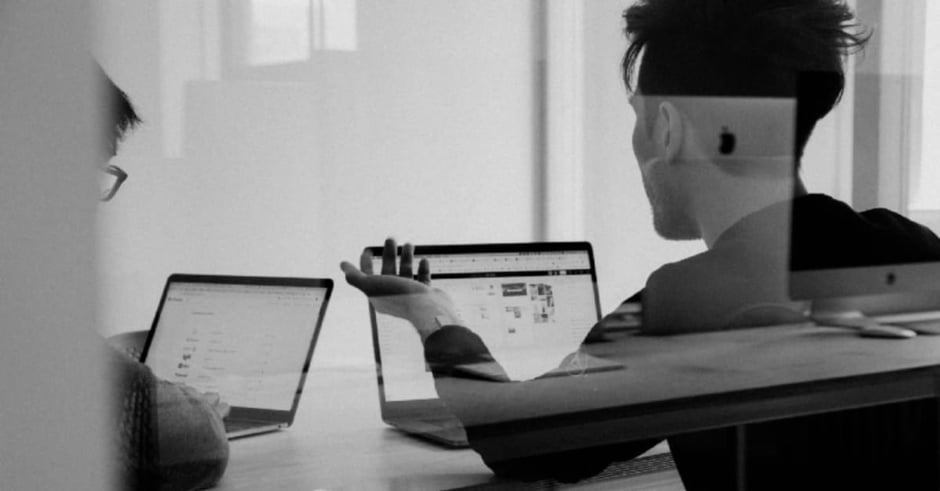 The next level up from traditional accounting software
Businesses have traditionally relied on accounting software such as XERO and QuickBooks for their financial management needs and added on extra systems for billing, purchasing, electronic payments etc. as they go. As complexities increase—distribution, warehousing, manufacturing and so on—even more systems come into the picture. The result? Multiple disconnected systems that don't exchange information with each other, making simple day-to-day tasks frustrating. But an ERP system can make this a thing of the past.
So, what is ERP? Short for Enterprise Resource Planning, an ERP system allows every aspect of a business to be managed from one hub so everyone across an organisation can rely on a single source of truth.
The 'enterprise' in ERP may cause decision makers to think that ERPs are only for companies with huge turnovers and thousands in headcount, but today's ERP solutions have evolved to become more affordable and accessible than the SAPs and Netsuites of the world.
Faster to implement—including the ease of remote implementations—and flexible enough to integrate with other business management tools, businesses of every size are investing in cloud-based ERPs these days.
Cloud based ERPs eat on-prem solutions for breakfast
Back in the 90s, ERP software mostly focused on organising business data and streamlining back-end processes such as inventory management and fulfillment. Shortly afterwards, the internet boom saw the definition of ERPexpand to include CRM, supply-chain management, job costing and more.
Fast forward to 2021, and cloud innovation has allowed modern ERP solutions to not only be more sophisticated in terms of functionality, but also more accessible than ever before.
Cloud-based ERPs bring together every business function seamlessly, giving organisational leaders a real-time, bird's-eye view of their entire business, allowing opportunities for growth to be identified and blind spots to be safeguarded.
But never has the cloud advantage been as important as in a pandemic ridden world. As logistics broke down and supply chains were crippled worldwide, the ability to pivot and adapt has been the key to survival for local businesses.
Cloud ERPs helped small and medium businesses transition to remote work overnight. Not only were these businesses able to meet customer demands, they were also able to reach newer markets by connecting into other cloud platforms seamlessly—from ecommerce to point of sale.
ERP benefits beyond streamlining your day-to-day operations
The answer to the question 'why are ERP systems important to organisations' is a multi-faceted one as cloud ERPs also have some not-so-apparent benefits for businesses.
Make decisions confidently with real-time insights: In the world of business, the Latin saying 'knowledge is power' absolutely applies. Unlike an accounting solution, a cloud-based ERP system transforms business data into actionable insights in real-time. This means time saved on gathering information can be used for data analysis and making data-driven decisions organisational leaders can stand confidently by.
Rest assured with a secure and reliable solution: Using accounting software in conjunction with other third-party software means security is still compromised as data is moved in and out of different platforms. On the other hand, ERP solutions work overtime when it comes to data protection because businesses trust ERPs with their most critical data. Whether by leveraging enterprise grade security infrastructure or getting certified against international security standards, the security levels offered by ERPs are far superior.
Technology that positively impacts human lives: Scrambling to collate information from multiple disconnected systems. Spending hours on manual data entry. One instance of human error that snowballs into a huge complication. Things like these create a sense of frustration at work, leaving employees feeling worn out and unmotivated. The right cloud ERP system can be the difference between employees who feel bogged down versus more productive employees who contribute to the business in more meaningful ways.
Assessing whether your business needs an ERP solution
While every business is unique, their core challenges are fundamental. If any of the following statements ring true for you, chances are, your business is ready to migrate to a cloud-based ERP.


You manage different aspects of your business using an assortment of software systems, third-party apps, and business tools.
Making informed decisions quickly is hard because your team takes weeks to prepare reports.
Your team loses a lot of time manually updating everything from purchase orders to stock levels to timesheets and rekeying info across platforms.
You work with suppliers and vendors from across the globe and knowing exactly where all your shipments are at any given time has been impossible.
Team members often use individual spreadsheets to manage processes and conflicting sets of data often cause confusion.
Physical receipts, invoices and paperwork make audit trails and keeping up with compliance a headache.
You have to pay your IT team for upgrades or when APIs have to be fixed.
You're always reacting to situations that disrupt your day-to-day rather than being able to predict situations.
If these statements sum up your current experience, you should be rethinking your business solution. Start by asking if your current setup is holding you back.
Why Wiise is the right cloud-based ERP for you
Wiise has worked with Australian businesses spanning a range of industries — from manufacturing to services to wholesale distribution—and helped them identify their complexities, reduce inefficiencies, and drive profits up.
Built on Microsoft's Business Central platform, Wiise is localised to suit Australian business needs including banking, tax, and compliance requirements. This also means it integrates seamlessly with the entire Microsoft ecosystem allowing your teams to use the tools they've always used like Outlook, Teams, Excel and more. The Microsoft advantage also extends to cloud-security. Wiise hosts your business data on Microsoft's Azure's powerful data centres based in Australia and internationally recognised for offering the highest grade of security.
Our teams innovate every day to ensure that we offer out of the box features and functionalities that help businesses leverage cloud technology to streamline their day-to-day, and make their employees lives a lot easier.
Find out what Wiise can do for your business
From helping finance teams reduce reporting times to giving operations teams the tools they need to minimise inefficiencies; from taking away the administrative burden on staff, to ensuring business leaders are in total control: Wiise can help.
Chat with our expert team about all things cloud ERP. Tell us about the challenges your business is facing, and we can show you how our clever cloud ERP can solve each one. Get in touch with us today.