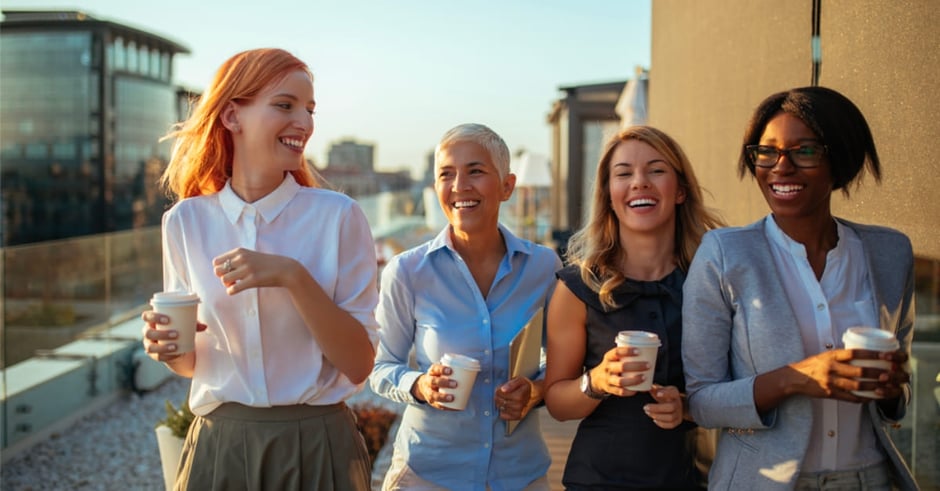 It's International Women's Day and we're turning the spotlight on women in leadership roles across tech, ERP, and B2B SaaS businesses. We quizzed them on the things they've learned over the span of their careers and asked them to share their best advice with professionals aspiring to be leaders one day. And even if we say so ourselves, this is the most uplifting article you'll read today.
Sharon Nouh, CEO & Founder at ProSpend (F

ormally e

xpensemanager)
Early on in her career, Sharon saw that technology had the power to revolutionise an entire industry. She hoped to one day leverage technology and automation to build a solution that could streamline business processes. Sure enough, Sharon took it upon herself to make life easy for Aussie businesses chasing up receipts and paying thousands of supplier invoices on the daily, by founding the end-to-end spend management platform, Expense Manager. When it comes to succeeding in business, she makes a case for striking a balance between speaking up and listening.

'In the new business world, we're taught to distinguish ourselves, which can sometimes be perceived as speaking up. But listening is an equally crucial, if underrated, skill for leaders. Listening to leaders around you can help absorb the skills and experience they carry as leaders.'

'So, here are my words of wisdom for the new generation of leaders: if we're listening, then we're learning.'
Dunya Lindsey, COO at Wiise
Dunya Lindsey leads the execution of Wiise's business strategy, as well digital and customer experiences. Dunya has not only been driving operational excellence to help our business scale at pace, she also makes sure that our customers and people are brought along on the journey. Having worked across both large firms and small businesses, Dunya loves an underdog, and is passionate about bringing big tech to small and mid-sized businesses. Here's her eloquent response to the one thing you should bear in mind, if you want to be recognised as a great leader.

'Always look for the win/win. Business can be competitive — we're all looking for market share, striving to do better, to make an impact. But real leadership isn't about winning. It's about creating outcomes that bring the greatest good — for your customers, your organisation, your people, your business partners and your community.

'Supporting the people and groups around you to find a win/win will ultimately win the day — a rising tide lifts all boats.'
Amy Turner, COO at Pro Seafoods
Amy heads up the operations at Pro Seafoods, one of Australia's largest wholesale distributors specialising in locally sourced seafoods. Amy has previously worked in a range of industries including tourism, where she amassed sales experience before IT implementations and systems support became her world. At Pro Seafoods, she oversaw the implementation of Wiise cloud ERP to help streamline key business processes.

Fast forward a few years, Amy has taken on lots more responsibility and continues to contribute to the growth of the business as COO. Here are her thoughts on why being open minded and having self-belief go a long way.

'Some of the best insights I've gained have been from simply watching how other leaders operate, react, and respond to situations or crises. Young professionals can really benefit from connecting with mentors. Talking to and working with diverse groups of people can help them round out their knowledge and help develop new perspectives.'

'Opinions different to your own are great, because they either solidify your own view or open your eyes to a new one.'

'Finally, trust yourself, your knowledge and experience. Listen to others and learn from all, but ultimately, stand up for the things you know are right.'
Sharmin (Tinni) Choudhury, CTO at Kyco Australia
Before becoming CTO at Kyco Australia, Tinni has been providing tech expertise to startups based in Brisbane and beyond. Tinni has a strong data analytics background and is a self-made entrepreneur who prides herself in being able to seize the opportunities that come her way.

'Say yes to interesting opportunities and take the leap instead of waiting for the 'right time' that may never come. I usually have to qualify this advice […] but a lot of good things have happened to me when I've dared to take the opportunities that come my way or just said yes to things.'

'If I want to accomplish something, but am not sure I'll succeed, I try anyway because if I don't try, the answer is no.'

'If the answer is no, let other people tell me so! I think it's important for women to hear this, because they're not always encouraged to 'give it a go' and so they hesitate to,' she signs off.
Nikki Inglis, ERP Practice Lead at Ecleva
Nikki Inglis is a leading expert in ERP systems and has been successfully translating business needs into technical solutions for 20+ years now. She has a track record of building high-performing teams and is highly respected for being highly pragmatic in her approach. She considers it the greatest compliment when clients say, 'We should've done this years ago, thank you!' Her mantra for success in a competitive world reads like affirmations you can repeat to yourself.

Be brave: It's hard to be brave and think differently all the time but try every day. Keep your mind open to ideas, people and things. We all make mistakes but try not to make the same one twice.

Be tenacious: Keep moving forward. You're blazing trails for others that follow after you, even if you can't see it now.

Be kind: You have to take care of yourself every day. By being kind to yourself you can be kind and empathetic to others too.

Be authentic: Be real about who you are, be real about your passions. Don't carbon copy anyone else.

Be passionate: Life, family, work, hobbies, ideas and dreams — be passionate about them all.

Be listening: Practice listening authentically. Give everyone a chance to speak and share in their ideas. You'll gain so much.

She concludes by saying, 'Do the above and you'll be a great leader. There are enough dictators around, be an inspiring leader instead.'