If you're managing a warehouse using spreadsheets or printed lists, then you know how frustrating it can be. Managing order fulfilment and inventory while keeping your customers happy, your team productive and your profitability up without the help of digital systems is very difficult.
To tackle these challenges, we're excited to announce Wiise Warehouse OnTime. This powerful mobile app digitises and automates warehouse tasks so that you can get your orders out on time, keep your customers happy and increase your profitability.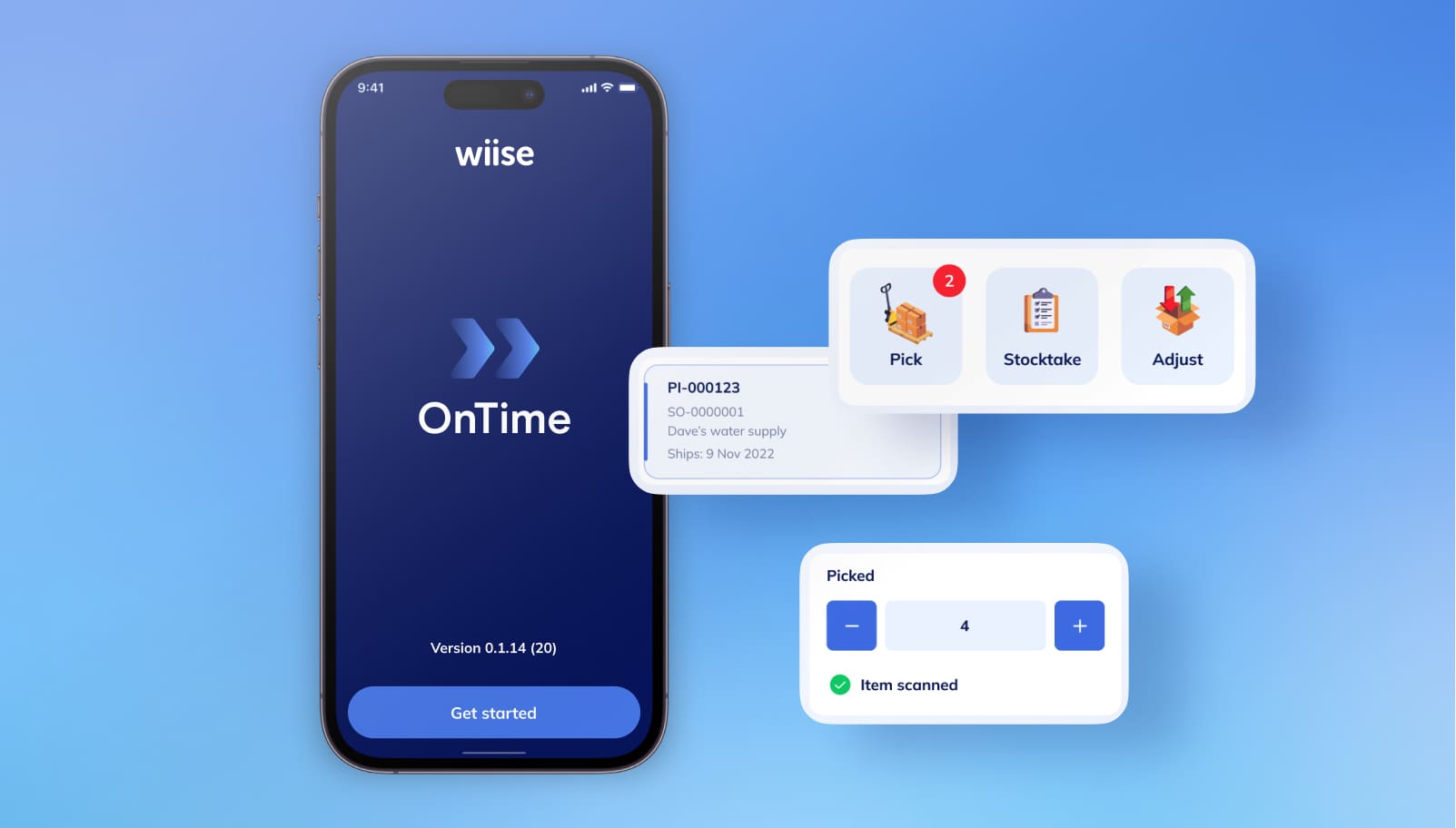 Twelve months ago, we started talking to warehousing teams in small and medium-sized businesses and specialists across the country, and we heard about the challenges they face every day.
We found that while big businesses are adopting smart warehouse technologies such as robotics and IoT, many others simply can't afford the costs involved. So, many businesses are still using pen and paper for critical tasks like picking, shipping and stocktakes, which comes at a cost. Processes take longer, stock goes missing, or is put in the wrong bins, which delays shipments, and mistakes in data entry cause incorrect inventory reporting, which in turn causes over and under-buying of stock and wasted capital.
The team is frustrated as they can't see how much stock they have, it's harder to fulfil orders on time so customers are unhappy, and without accurate, real-time reporting it's very hard to manage costs and profitability.
We set out to provide these businesses with a simple digital solution to automate and streamline their warehousing. So over the last year, we've worked closely with our customers to develop an easy-to-use mobile app for warehouse workers: the result is Wiise Warehouse OnTime.
How OnTime works
OnTime is available for Wiise Premium and Business customers on both Apple and Android mobile devices, as well as major hardware scanning solutions.
You'll be able to:
Scan and manage inventory picks, put-aways, stocktake and adjustments – all from your own device

Eliminate mis-picks, delays and inventory errors caused by manual and paper-based processes

See the exact status of everything happening in your warehouse in real time

Keep accurate inventory records, with easier and faster stocktakes and stock adjustments

Better manage urgent tasks with built-in prioritisation

Get up and running quickly with OnTime's easy-to-use interface and setup.
For more information about how OnTime works, check out more at Wiise Learning.
What's next for OnTime?
This is only the beginning. We're already working on adding new features to OnTime, which will be released in the coming months, including receipt, shipping and serial and lot tracking.


We're excited to bring this technology to Australian and NZ businesses. We'd also like to extend a very big thank you to our customers and partners who have shared their time and experiences with us over the last year to help build these features. We truly hope that OnTime supports Australian and NZ businesses to digitise warehousing and operations, and support their growth.
We look forward to sharing more updates in the coming months. In the meantime, as always, if you have any questions, feel free to reach out to our Support Team.
Stay tuned – there's more to come!
Dunya Lindsey
Chief Product Officer, Wiise
Ready to learn more?
Book a demo call with one of our friendly team members.
Book a demo