Premium Partner
Number of Microsoft Certifications
4 x MB-800
1 x MB-300
1 x MB-310
2 x MB-910
Industries we specialise in
Financial services
Manufacturing & Assembly
Not for profit
Professional services
Warehousing / Distribution
Job Management
Areas of expertise
Wiise
Business Central
Dynamics 365 Fin & Ops
Microsoft Dynamics CE
Continia Document Capture & Expense Management
Dynamics 365 Extension development & management
About
Bizmaxus: Your Partner for Seamless Wiise Implementations
At Bizmaxus, we specialize in delivering seamless Wiise implementations for businesses of all sizes. With our expertise and commitment to excellence, we empower organizations to unlock the full potential of Microsoft Dynamics 365 Business Central and enhance their operational efficiency. Here's why Bizmaxus should be your trusted partner:
Extensive Experience: With years of experience in the industry, Bizmaxus has successfully implemented numerous Wiise solutions for a wide range of clients across various sectors. Our team of experts brings deep knowledge and hands-on experience to every project, ensuring a smooth and efficient implementation process.
Tailored Solutions: We understand that each business is unique, and that's why we believe in tailoring our solutions to fit your specific needs. We work closely with our clients to understand their requirements, analyze their workflows, and design customized solutions that align with their business goals.
Holistic Approach: Our implementation approach encompasses not only the technical aspects but also the people and processes involved. We take a holistic view of your organization, identifying opportunities for improvement and streamlining your operations to maximize efficiency and productivity.
Comprehensive Support: Our commitment to your success doesn't end with the implementation. We provide ongoing support and assistance to ensure that your Wiise solution continues to meet your evolving needs. Our dedicated support team is always available to address any questions or concerns you may have.
Seamless Integration: As a full-service implementation partner, we have the expertise to seamlessly integrate Wiise with your existing systems and processes. Whether it's integrating with third-party applications, establishing EDI connections, or migrating data from legacy systems, we ensure a seamless integration that minimizes disruption to your business.
Training and Adoption: We believe that successful implementation goes hand in hand with user adoption. Our comprehensive training programs empower your teams to effectively utilize Wiise and maximize its benefits. We provide training tailored to different user roles and offer ongoing support to ensure a smooth transition and rapid adoption of the new system.
Results-Driven Approach: At Bizmaxus, we are driven by delivering measurable results. Our goal is to help you achieve operational excellence, improve decision-making, and drive business growth. We measure our success by the success of our clients, and we are committed to delivering solutions that have a tangible impact on your bottom line.
Choose Bizmaxus as your implementation partner and embark on a transformational journey with Wiise. Let us guide you in harnessing the power of Microsoft Dynamics 365 Business Central and take your business to new heights of success.
Contact us today to discuss how Bizmaxus can tailor a Wiise implementation to suit your business needs and drive your organization's growth.
Visit our website at www.bizmaxus.com or email us at info@bizmaxus.com to get started.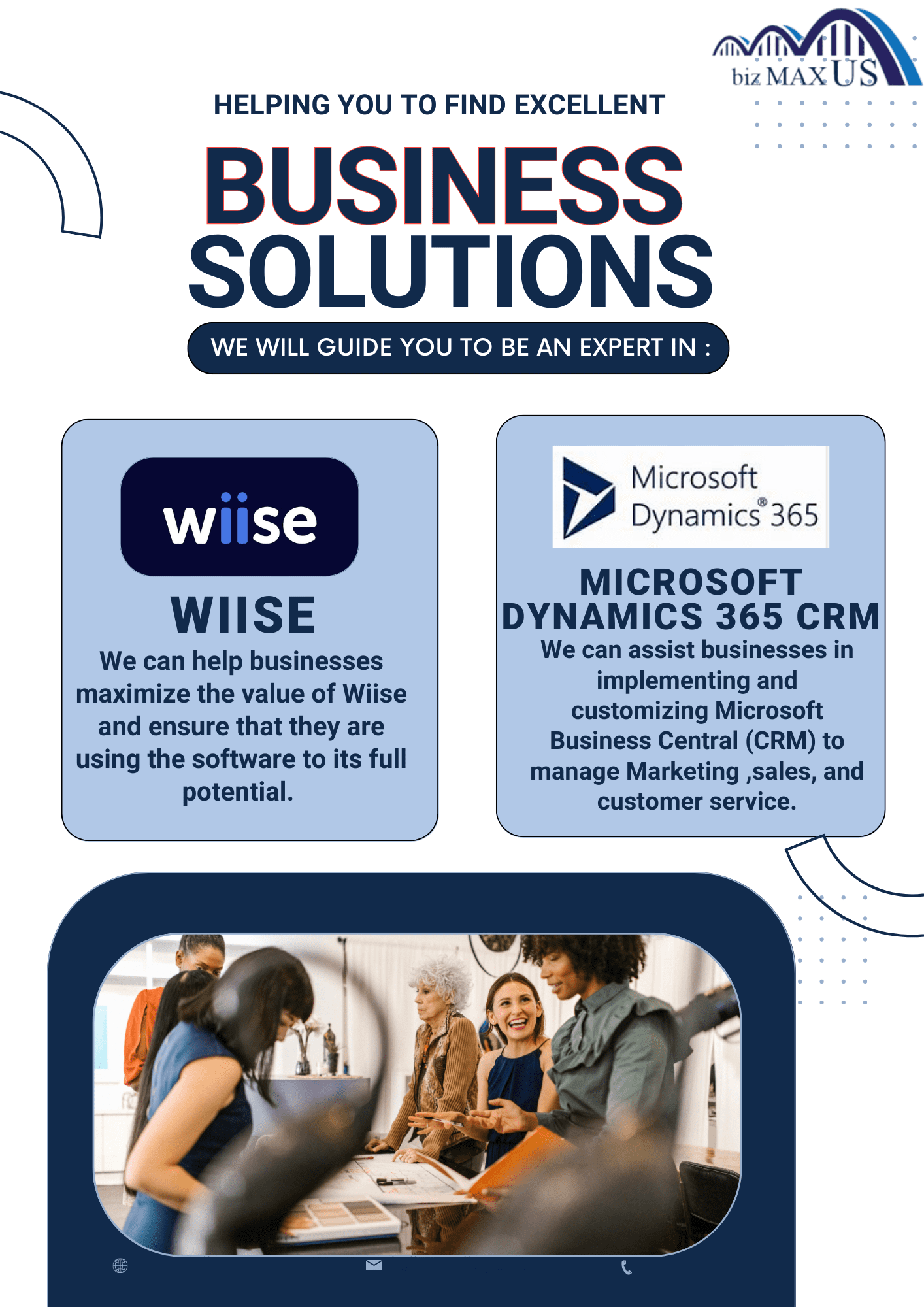 Testimonials
"They have come through with everything we require, exactly how we want it. They have in-depth knowledge of the product as well as the business domain."

Mathew Clements, Clover Street
"I had never worked with an ERP system, and I wasn't even sure where to start. Bizmaxus helped us in evaluating the ERP best suitable for us."

Srinivas Hanumanth, Tax note Pty Ltd
"The Bizmaxus Team came in and assessed every step of our business process. They asked a lot of questions and really paid attention to us. I felt that Bizmaxus offered us a solution, not just a software program."

Anthony Venditozzi, Bedford Phoenix
"Bizmaxus has empowered us to speed up order turnaround by bringing better productivity to order management, forecasting and the manufacturing process itself by implementing the Business Central and Continia Document Capture."

Julia Kellar, Krisis Bags