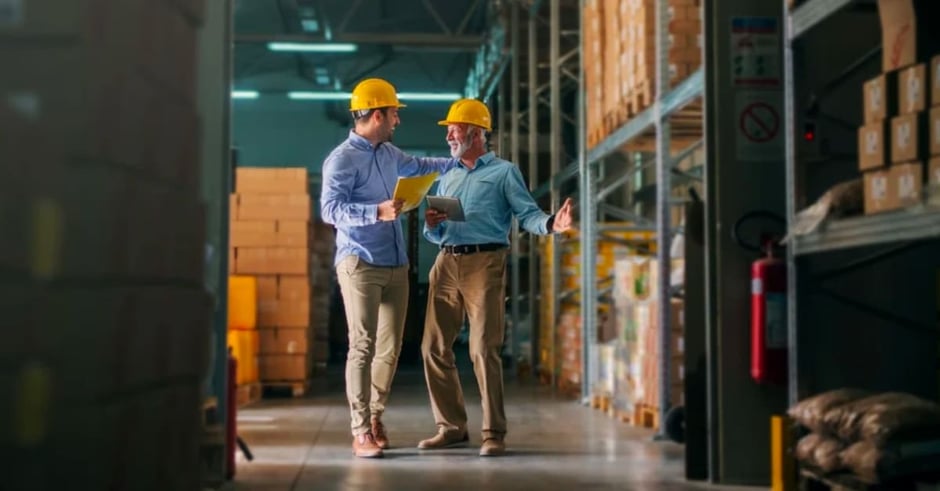 In 2021, nearly three-quarters of organisations around the world reported loss of revenue resulting directly from a supply chain disruption according to BCI's Supply Chain Resilience Report 2021. Although the pandemic is now showing signs of easing, industry experts are warning that global supply chains will continue to be impacted by logistics disruptions, production delays and labour shortages for the next 12 to 18 months.

To avoid a repeat of past years, businesses are now investing in cloud-based technologies that can help them anticipate, plan for and respond to market volatilities. According to Gartner's Future of Supply Chain 2021 report, 79% of supply chain leaders think that an internet or platform-based approach is the most critical new business model to support post-pandemic recovery.

Here's how integrated cloud solutions can help strengthen the four pillars of supply chain resilience.
Visibility key to supply chain risk management
A supply chain is made up of a number of links and having total visibility into every single one is critical for businesses looking for post-pandemic success. According to research on supply chains by McKinsey and Company, 73% of companies still rely on manual methods like spreadsheets to monitor and plan for supply chain risks.

Better supply chain visibility is key to being prepared for disruptions and variability at domestic, regional, and global levels. Organisations need to be taking advantage of cognitive planning tools and AI-driven predictive analytics to enhance their supply chain planning capabilities. Investing in cloud solutions tailored to business and industry needs can help them achieve that.
Agility in responding to changes crucial
In the recent months of supply-side shortages, increased customer demand have led several businesses to adjust their 'just in time' approach to ordering, to ordering more stock 'just in case'. But as customers become more conservative amid talk of inflation and rising interest rates, some businesses are now facing high warehousing costs from stockpiling inventory they may not be able to sell. That's not to say that demand and supply no longer work in sync anymore. Businesses need to be better equipped to manage supply and demand shocks.

Businesses determined to succeed in the post-pandemic era are actively investing in technologies that allow for smarter supply chain planning functions. In fact, 83% of respondents in a BCI survey of 173 participants spread over 63 countries indicated that management's commitment to supply chain risk is now medium or high.
Making supply chains 'unbreakable'
In a pre-pandemic world, supply chains were increasingly optimised for efficiency. However, years of depending on sole suppliers and emphasis on lean supply chains have rendered the global supply chain network brittle, leaving businesses completely vulnerable to a single weak link.

Recent global events have accelerated the transformation of supply chains. Cloud technologies are playing a huge role in digitally integrating every part of the value chain making them more resilient to adverse trade and logistics events.

Modern cloud-based systems can show businesses real-time information about blockages and freight choke points. Their AI and IoT capabilities can instantly process the supplier information available in the system to identify new suppliers and calculate new shipping routes. In the real world, this can help businesses figure out things like where else components can be sourced from, if the usual manufacturer is unable to supply it, or can alternative routes be found, if a major route is blocked, etc
Transparency right along the supply chain
Wiise CEO Charlie Wood believes that trust, with a capital T, will be the key currency for all transactions in 2022 and beyond. 'Trust will be a priority in organisational culture and operations, as sustainability becomes standard,' he says. In the context of supply chains, trust is about ensuring the security of transactions and business data. Trust also means making processes visible, accountable, and adaptable.

Intelligent, cloud-based ERP solutions available in market today are certified against international security standards such as ISO27001 and ISO27017 and offer multi-factor authentication. This ensures that your data is backed up in real time on secure servers that allow for geo redundancies and federally compliant database-level disaster recovery.

Investing in cloud ERPs built on a globally trusted platforms also means that a global team of network engineers, security specialists and solution architects work behind the scenes to keep your business system up and running.
The last word in supply chain resilience
Peter Liddell of KPMG's Global Operations Centre of Excellence says that companies need to be focusing on more sophisticated technologies delivering real-time insights to be able to mitigate the negative impacts of adverse trade and logistics events.

We've developed a comprehensive playbook that discusses the current outlook for global supply chains and goes over how cloud technologies are helping businesses become less vulnerable to demand and supply-side shocks by leveraging real-time data and intelligent automations.

Get your free copy below to find out how other businesses have benefitted from the supply chain planning capabilities offered by cloud-based ERP solutions.