Premium Partner
Company Size
26-50 Employees
Certifications
Azure Solutions Architect Expert
Azure Administrator Associate
Azure Data Fundamentals
Azure AI Fundamentals
Azure Fundamentals
Dynamics 35 Business Central Functional Consultant Associate
Dynamics 35 Customer Service Functional Consultant Associate
Dynamics 365 Marketing Functional Consultant Associate
Dynamics 365 Field Service Functional Consultant Associate
Dynamics 365 Fundamentals (CRM)
Enterprise Administrator Expert
Security Administrator Associate
Power Platform Solution Architect Expert
Power Platform App Maker Associate
Power Platform Developer Associate
Power Platform Functional Consultant Associate
Power BI Data Analyst Associate
Power Platform Fundamentals
Security, Compliance, and Identity Fundamentals
Languages we speak
English
Vietnamese
Gujarati
Hindi
Industries we specialise in
Financial services
Manufacturing & Assembly
Not for profit
Professional Services
Warehousing / Distribution
Construction
Aged Care, Health & NDIS
Education
Areas of expertise
Microsoft Dynamics Central
Microsoft Dynamics (Sales, Customer Services, Marketing, Field Service)
Microsoft Power Apps
Microsoft Power Automate (RPA)
Microsoft Power BI (Business Intelligence)
About
Helping People Improve Their Lives

Founded in 1996, we are a Business Systems Consultancy with deep industry and technology expertise. We help our clients build business line applications that lead to customer satisfaction, team enjoyment, increased productivity, and the confidence to make timely and informed decisions.


Our Vision

Is to help our clients deliver high quality user experiences for their customers and teams, unlock value and future proof their business.


Our Purpose

Enterprising use of technology to improve people's lives.


Our Values

Enterprising, Collaborative, Leadership, Engaged, Value, Act with Integrity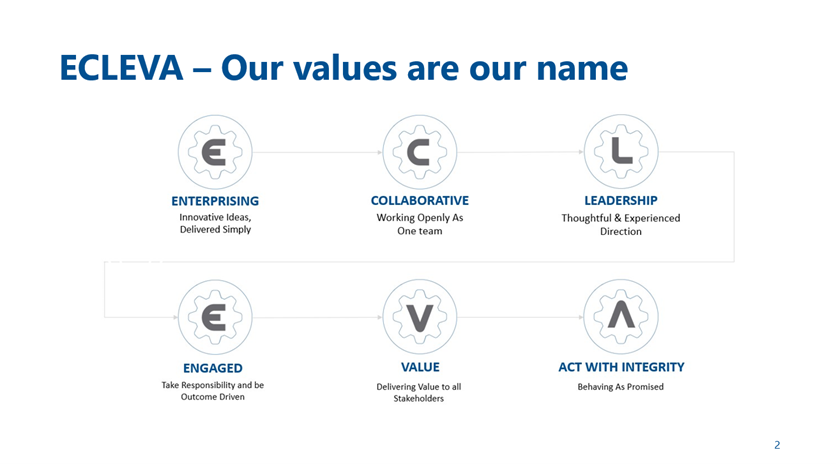 Testimonials
"ECLEVA is number one when it comes to responsiveness and timeliness. ECLEVA is professional, responsive, and the technical experts."
Peter Leau, Baptist World Aid Australia
"We can now track lead to enrolments. We now have quality data to make informed decisions regarding our curriculum."

Julie Poole, TAFE Queensland
"We reviewed several suppliers and were impressed by ECLEVA's methodology and approach. I also liked the way in which they prepared and show their understanding of our business."

Craig Burchall, 3E Advantage
"Now we have full transparency on when documents are sent, delivered, and downloaded. This has de-risked our projects immensely."

Angus Greenwood, Mainbrace
"What it's enabled us to do is be scalable. Now we're able to generate at least another $1M in revenue because of this solution under the existing number of team members that we have."

Rodney Frost, Lamson Paragon Group
"Patrick and the team brings a tailored approach to the delivery of their services and that was a great fit for the University."

Chad Coutman, The University of Newcastle
"By keeping the entire system in the cloud, they freed us from having to think about technical infrastructure or support. The ECLEVA tool delivered a 50% saving in terms of time and human resources."

Kathy Mackey, Queensland Academies